Home| PHALANX FLASH | PHALANX LASH AUTOLOAD HOLSTER| LASH AUTOLOAD HOLSTER Procedures | Frequently Asked Questions | PHALANX SLASH | Other Products | Contact Us | Ordering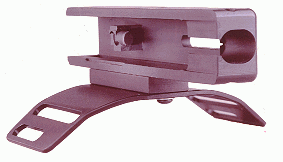 A paradigm shift in design and function, the Phalanx LASH® AUTOLOAD HOLSTER™ isn't just a container; it is an automatic locking and automatic loading holster. As you holster your pistol, the interior configuration of the Phalanx LASH® AUTOLOAD HOLSTER™ partially retracts the slide, inserts an action locking lug and blocks the trigger. When you draw, the pistol automatically unlocks, loads and cocks.
---
Phalanx LASH® AUTOLOAD HOLSTER™ features:
Automatically protects you against accidental discharge and gun grab attempts.
Unique design accommodates mounted lasers and flashlights with unobstructed access to a perfect combat grip.
Has no moving parts, no snaps or straps, or tensioning devices to wear out, malfunction or get in the way. You need only concentrate on rapid target acquisition.
Allows you to lock your pistol, with the trigger blocked, in the holster with a combination lock when not in use.
Ambidextrous and height adjustable for strong side or cross draw.
Constructed of high density polymer that can be easily cleaned or disinfected and will not distort or wear out.
Precision manufactured for specific makes and models and are available for either duty or concealed carry.
---
Charged with the responsibility of both the safety and effectiveness of their personnel, commanders must consider the contingent liability of gun safety on duty, as well as off duty when the pistol is not being carried. This unique holster fulfills and exceeds legislated requirements for safe gun storage. Based on significant statistical data on accidental shootings caused by loaded Condition 1 carry, most international military and many law enforcement agencies (notably Israel) prohibit loaded carry because of its inherent danger and consequent liability in an unintentional firing, gun grab attempt or when the pistol is not being worn.
Prior to the development of this revolutionary holster, the universal departmental or personal dilemma was whether to chamber or not to chamber a cartridge into battery when carrying a pistol holstered. Conventional holsters are merely passive containers. They do not dynamically interact with the pistol's firing capability, allowing only two significantly compromised options for carry: Loaded Condition 1, or Unloaded Condition 3. Until now there was no other option.
Further compounding the dilemma with the use of conventional holsters, although Unloaded Condition 3 carry is safer it is, however, considerably slower as the slide must be actioned by the other hand to load the pistol after it is drawn. The delay caused by the need to use two hands to chamber a cartridge compromises the safety of carrying in Unloaded Condition 3 during a confrontation when speed is critical, not to mention the additional disadvantage of not having the other hand free to fend off an assailant. The PHALANX LASH® AUTOLOAD HOLSTER™ provides single-handed speed and maximum security; and it does so with no moving parts, snaps or straps. It is, in fact, an incredibly safe, high speed, Smart Holster®. With only a short, single-handed motion the PHALANX LASH® AUTOLOAD HOLSTER™ automatically transitions the pistol from trigger and pistol Locked, Unloaded Condition 3 to Unlocked, Loaded Condition 1, cocked and drawn ready to fire in less than a second.
---
U.S. Patent No. 5,611,164 | U.S. and Foreign Patents Pending | ® & ™ Registered
---
Home |PHALANX FLASH | PHALANX LASH AUTOLOAD| LASH AUTOLOAD HOLSTER Procedures | Frequently Asked Questions | PHALANX SLASH | Other Products | Contact Us | Ordering